As we realized that we had a long time between book sales, when we didn't do anything in the fall, and two of them in the spring, we decided to try a one day sale in the library this fall.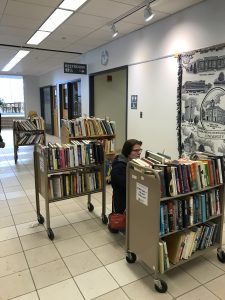 Friday, October 7 was also the day of an all-campus "First Friday" social that also happened to be sponsored by library so we set up from 10 to 4 in the lobby. All in all, it was a great success, so expect more of the same each fall.
Thanks to always for all out volunteers, customers, and especially the library (and for taking cards at the service desk, which facilitated about 1/3 of the sales!).